Welcome
The 'UN Staff 1% for Development Fund' was created in Geneva in 1977 to make micro-grants to community projects in developing countries. From village libraries, to day care center training, to carpentry, to honey bee-keeping, the Fund continues to change lives for the better.
Members select projects based on their potential to become self-sustaining and keep in touch with local contacts who supervise and monitor the development initiatives.
The 1% for Development Fund at UN Headquarters is an association comprised of about 100 current and former staff members, but is independent of the United Nations and its agencies. For as little as $10 per month, you can add your voice and enrich your heart.
For details of our work, you can read this article about our work or watch this video from BBC about one of our libraries in Uganda:
Authors-for-Literacy supports the 1% Development Fund
Thursday, 7 June 2018 | New York | UN Staff 1% for Development Fund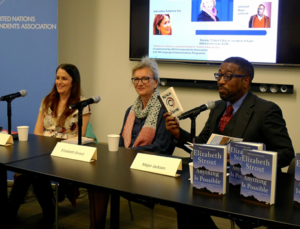 (l to r:) Katherine Vaz, Elizabeth Strout, Major Jackson; photo by Francoise Bouffault
An Authors-for-Literacy evening took place on 23 April, – the birthday of William Shakespeare, – to benefit literacy projects of the UN Staff One Percent for Development Fund (the 1% Fund).
Pulitzer Prize winning author Elizabeth Strout was joined by renowned fiction writer Katherine Vaz and acclaimed poet Major Jackson in presenting their fiction and poetry to spotlight the beauty and power of the word. The event was appropriately held on English Language Day, designated by UNESCO as one of the six "language days" to mark the importance of Organization's six official languages.
The literary event and reception, held at the UN Correspondents Association meeting room, was co-hosted by the 1% Fund in cooperation with UNCA and the Language and Communications Programme. Elizabeth Strout, the event's featured author, read from her latest best-selling novel of hope, Anything is Possible, which has been translated into 30 different languages, attesting to its international appeal.
UN Radio interviews 1% Fund Management Committee member Pat Duffy