Welcome
The 'UN Staff 1% for Development Fund' was created in Geneva in 1977 to make micro-grants to community projects in developing countries. From village libraries, to day care center training, to carpentry, to honey bee-keeping, the Fund continues to change lives for the better.
Members select projects based on their potential to become self-sustaining and keep in touch with local contacts who supervise and monitor the development initiatives.
The 1% for Development Fund at UN Headquarters is an association comprised of about 100 current and former staff members, but is independent of the United Nations and its agencies. For as little as $10 per month, you can add your voice and enrich your heart.
For details of our work, you can read this article about our work or watch this video from BBC about one of our libraries in Uganda:
Check out our literary events in support of the 1% Fund: Photo galleries of Authors Readings and Book Fairs
Albano Building Flash Craft Sale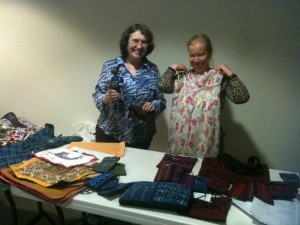 UN Radio interviews 1% Fund Management Committee member Pat Duffy.